Courses
NATIONAL POOL LIFEGUARD QUALIFICATION (NPLQ) WITH AED
We are running the following NPLQ courses:
COURSE 4
Monday 26th - Saturday 31st October 2015
08.00 - 17.00
Course Fees = £270 (cost includes course materials)
**Refreshments & lunch will be provided FREE of charge**
Pre Requisites
Every candidate, prior to commencement of training for the NPLQ must:
* Must be 16 years of age prior to assessment and be physically fit.
* Jump/dive into deep water.
* Swim & tow a casualty 50 metres in no more than 60 seconds.
* Swim 100 metres continuously on front and back.
* In deep water, tread water for 30 seconds (using egg beater or inverted breaststroke leg kick).
* Surface dive to the floor of the pool (hand must touch bottom of pool and not feet).
* Climb out unaided without ladder/steps and where the pool design permits.
For more information or to book a place on any of the above courses please call reception on 01992 706299 or alternatively e-mail Sarah Samuels at s.samuels@haileybury.com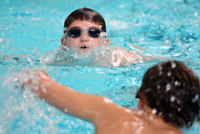 More Swimming Pages