Swimming Prices
PRICES PER SESSION
| | | |
| --- | --- | --- |
| | Member | Non-member |
| Family (2 adults and 2 children) | £8.30 | £12.50 |
| Adult | £3.00 | £4.50 |
| Junior | £1.70 | £2.50 |
| Senior Citizen | £1.70 | £2.50 |
| Disabled | £1.70 | £2.50 |
| Other Groups | N/A | £2.50* |
ADULT MONTHLY AND ANNUAL SWIM PASSES
| | | |
| --- | --- | --- |
| | Member | Non-member |
| 10 Tickets | £25.50 | £40.20 |
| 20 Tickets | £49.50 | £79.50 |
| 3 Monthly Swim Pass | £64.00 | £102.00 |
| 6 Monthly Swim Pass | £128.00 | £203.90 |
JUNIOR, SENIOR CITIZEN AND DISABLED MONTHLY AND ANNUAL SWIM PASSES
| | | |
| --- | --- | --- |
| | Member | Non-member |
| 10 Tickets | £13.70 | £20.60 |
| 20 Tickets | £26.40 | £40.20 |
| 3 Monthly Swim Pass | £32.60 | £52.00 |
| 6 Monthly Swim Pass | £66.20 | £102.00 |
* Must be accompanied with correct proof of status. Other Groups are those on income support, the unemployed and students.
Please Note: To be entitled to purchase Multi Swim Value Tickets at a members rate you must purchase an Annual Sports Complex Membership.
For swimming lesson prices, please see our swimming lesson prices page.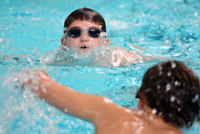 More Swimming Pages